How to use Tebi
On this page, we put together all the necessary details about our web-interface sections and settings, information about file managers and how to connect with our repository through S3 and FTP/FTPS.
Join for free!
You can manage buckets in the Buckets section, create and delete them, change the default settings manually, and download/upload files through the web interface. We don't limit the number of buckets. The best practice is to create separate buckets for different websites and projects.
Tebi.io is S3 compatible, therefore the buckets should be named according to the standards explained on the Bucket Naming Rules page.
You can access logs from the Buckets section, view the number of files and the space they are taking. Logs help to keep track of the storage used out of your current package and measure the outbound traffic.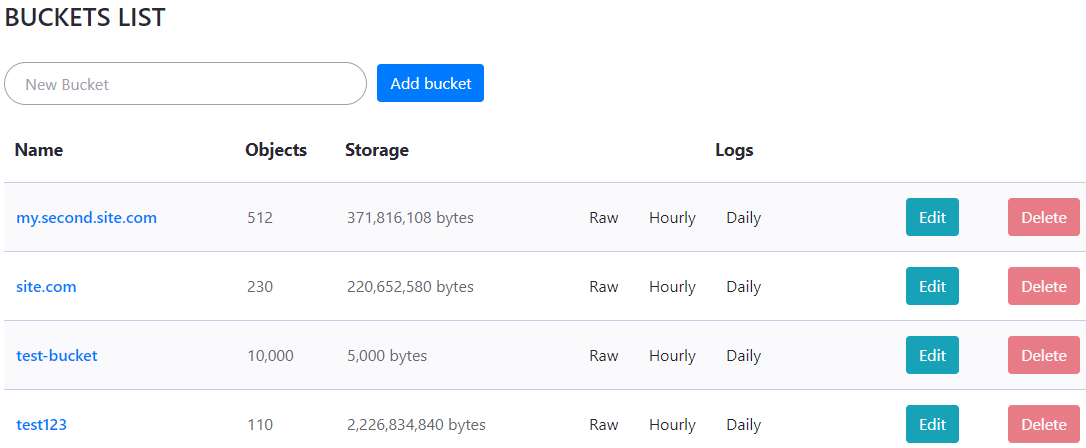 There are detailed settings you can modify for each bucket: Keys, Website hosting, CORS, Advanced.
You can create keys for each bucket via the Keys tab. Keys are very helpful when you need to provide access to different parts of the repository.
Enabling website hosting in the Bucket settings allows storing static websites with Tebi.io. Enabling this option you will provide the maximum download speed for customers across the world.
Encrypt by default and Live replication can be enabled via the Advanced tab. You can also choose the Default Storage Class, Metadata Write Concern, and Primary Metadata Region here.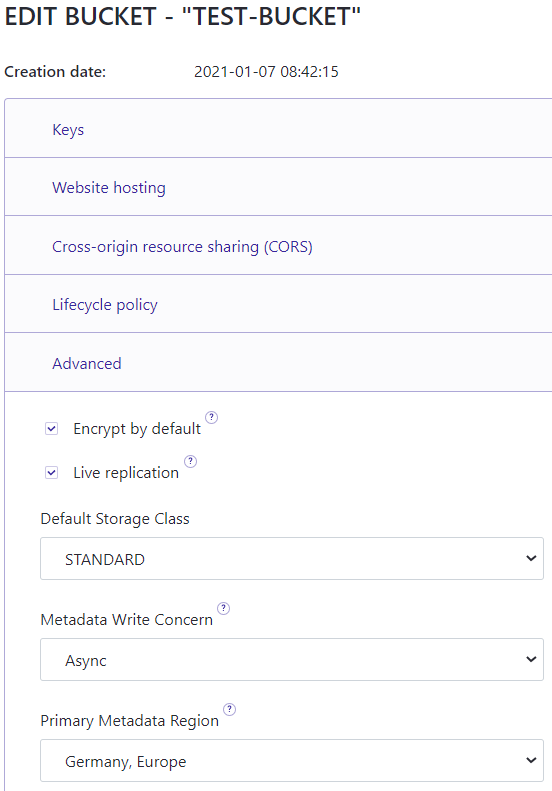 In the Keys section, you can create and delete master-keys that provide access to files in all your buckets, allowing you to delete existing buckets and create new ones.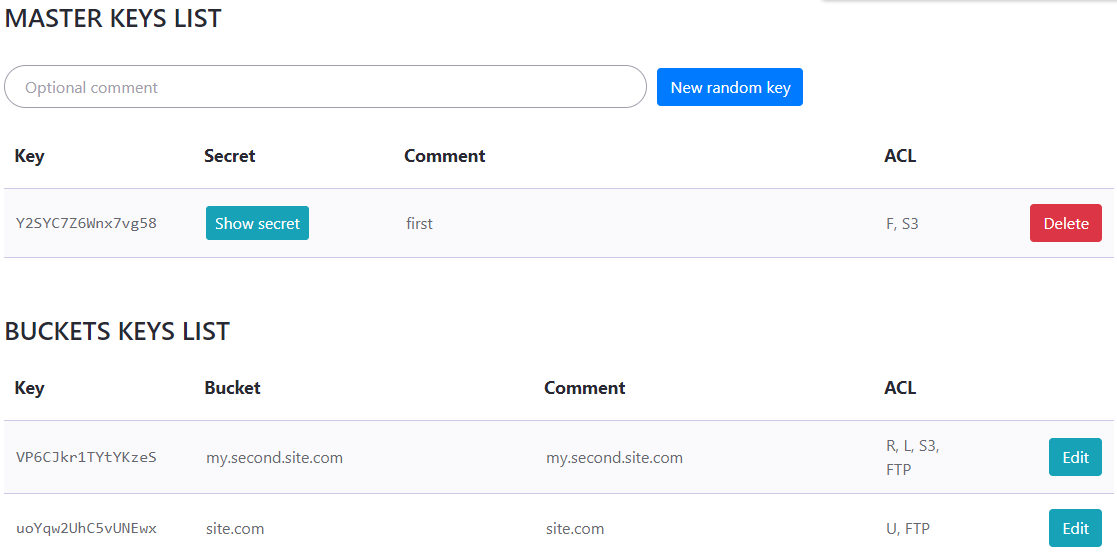 Each file stored with Tebi.io has a Storage Class. Its main function is to manage the geolocation of your data and the number of copies stored on each server. For example, if all your users are located in Europe, you may want to store two copies of your files in Germany. As an alternative, you can choose to store your data in 3 or more different regions, so the users from anywhere in the world can access them.
In this section, you can track how many files are linked to your Storage Classes and how much space they are taking.

With the Standard Storage Class, you can store your files on both coasts of the USA and in the EU in Germany. You can store a minimum of two copies and your data can be hosted in any combination of regions. Editing is only enabled for those classes that don't have any files saved.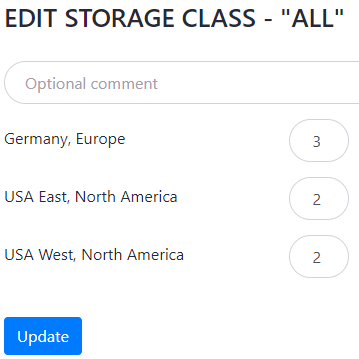 In the Support section, you can view parameters for connecting via S3 and FTP/FTPS. You can also download a profile to connect via Cyberduck.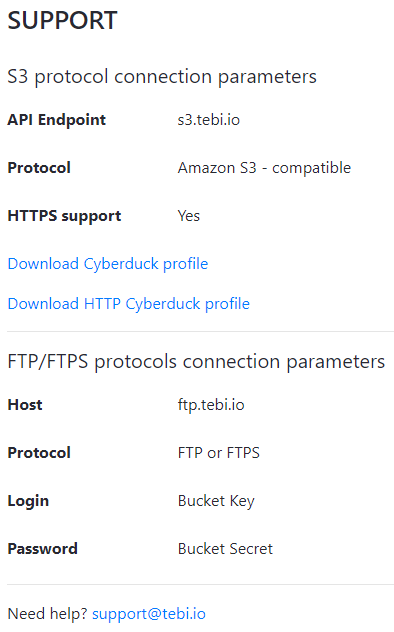 After registration, every user receives a free 14-day trial, to try all features of our repository without limitations.
At the end of the trial, you can choose one of three packages. You will be able to select your package after deciding on the payment method.
You can add your payment method, manage your current subscription, and download your invoices via our partner billing system Stripe.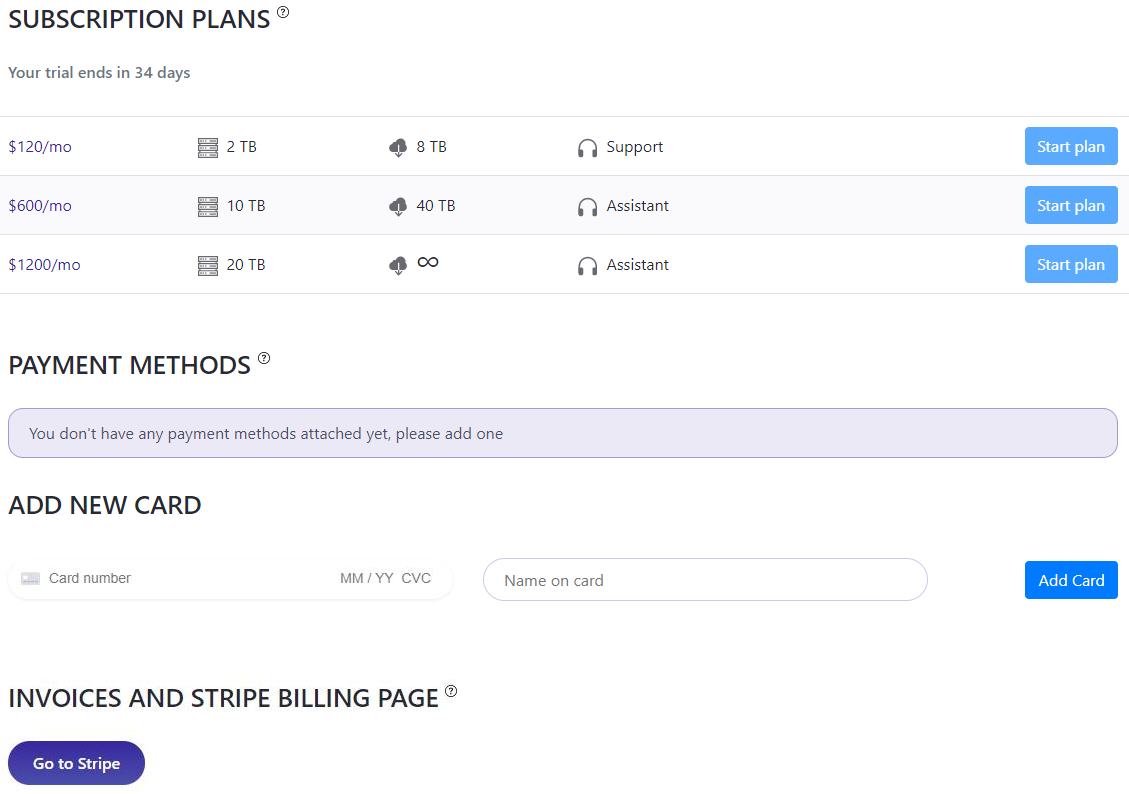 In this section, you add your company's information. This is required for invoicing and proper tax withholding.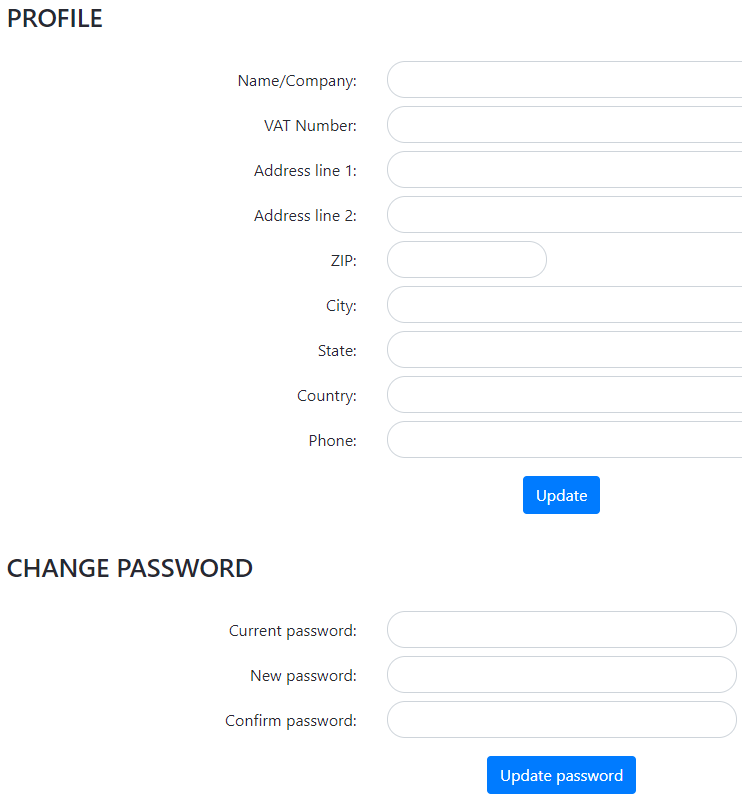 Cyberduck — https://cyberduck.io
Cyberduck is a handy program for accessing our repository. Profile for Cyberduck can be downloaded on the Support page or via the link.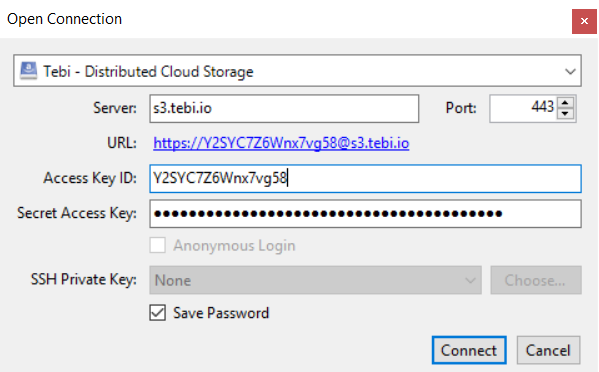 S3 Browser — https://s3browser.com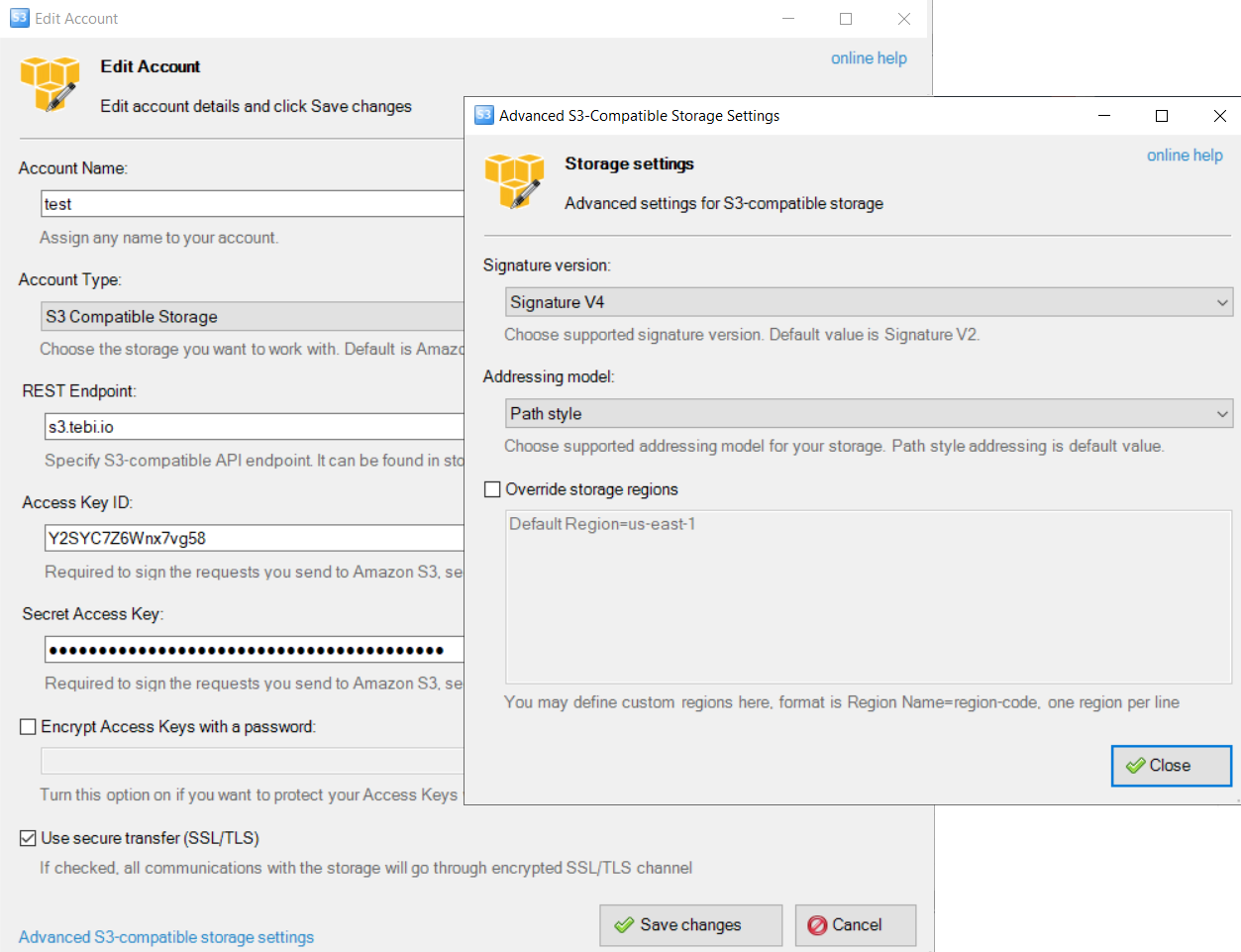 Tebi supports connecting and data transfer via FTP/FTPS. For convenient connection, we recommend using the following popular programs:
FileZilla — https://filezilla-project.org

WinSCP — https://winscp.net