Flexibility to store data your way with Tebi
At Tebi, we understand that your storage needs may change and it is important to have tools to control and customize your storage strategy.
That's why we offer unique Storage Classes. Unlike storage providers, who have a list of predefined Storage Classes that you can not change, Tebi allows you to create your own Storage Classes and select how many copies of your data you want stored in specific regions. Your data is always protected and distributed to the right locations without overpaying for unnecessary copies.
Why do the amount of copies vary?
The amount of copies you need for optimal storage and access depends on the way your data will be used. For example, if you have customers located all around the world, you might think of storing data in multiple regions to reduce the time it takes to access it and ensure it's always available. However, if you are primarily targeting the American market, you may only need two copies of the data, strategically placed on different U.S. coasts.
If your data is frequently accessed (uploaded or downloaded) from a particular location, storing multiple copies of it on a nearby server cluster can greatly enhance your data access speed. While keeping multiple copies of critical data creates reliability and ensures that it is always available when you need it.
How to manage copies with Storage Classes?
You can create multiple Storage Classes and specify the regions and the number of copies of your data that are stored in each region for each Storage Class.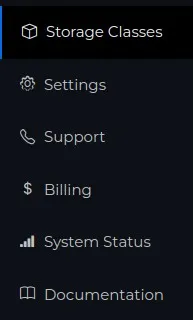 You can specify a Storage Class for an object before uploading it. At the storage bucket level, you can also set a default Storage Class. This simplifies management and provides a flexible and customizable way to manage the replication and availability of your data with Tebi.
Are there any limits to the maximum and minimum amount of copies that can be stored?
The minimum number of copies for your data is 2, but we highly recommend storing your data in 3 copies and more. This ensures a high level of reliability with a 99.999999999% guarantee (11 9s).
You can replicate your data across as many regions and copies as you need to suit your unique use case.
After one month of active subscription, Tebi can prepare for you detailed recommendations on how to configure Storage Classes based on your users' file request data. Our goal is to provide you with the most efficient and cost-effective solutions to help you manage your data with ease.
How much does it cost to store more than 2 copies?
At Tebi, the base cost for storing one copy of your data is $0.01/GB ($0.008/GB for the Storage Oriented package). If you are looking to store more than 2 copies of your data, the cost will depend on how many copies you choose to store.
2 copies: $0.02/GB ($0.016)
3 copies: $0.03/GB ($0.024)
4 copies: $0.04/GB ($0.032)
5 copies: $0.05/GB ($0.04)
6 copies: $0.06/GB ($0.048)
7 copies: $0.07/GB ($0.056)
8 copies: $0.08/GB ($0.064)
The cost of storing your data is the same for all regions, so you don't need to worry about additional fees if you want to store your data in multiple regions. The number of copies you choose to store does not affect the cost of downloading your data as it is based solely on the amount of data transferred.
Tebi offers FREE data upload and replication to the necessary regions, as well as automatic data proxying, so you won't be charged any hidden fees for these services.
Begin storing data closer to your global users today
Unlock the power of geo-distributed, S3-compatible, in-house built object storage.
Get in touch with Tebi